Kabimmune plus (L- Glutamine & Zinc)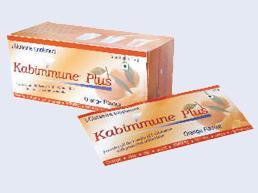 Kabimmune plus (L- Glutamine & Zinc)
Product Description
Each 15 gm sachet contains:


L- Glutamine = 10gm,
Beta carotene = 1.6 mg,
Vitamin E = 10 mg,
Vitamin C = 60 mg,
Zinc = 3.3 mg,
Selenium = 50 mg.
Features / Benefits :
Kabimmune Plus provides oral powder supplement, providing a unique combination of glutamine, antioxidant vitamins and trace elements.
Kabimmune Plus is high in Glutamine to cover increased needs and to maintain gut functions & helps to improve immune function.
Kabimmune Plus has antioxidants vitamins and trace elements to alleviate oxidative stress and to help prevent tissue damage.
Kabimmune Plus is preferred due to following characteristics :
Helps to improves & maintains gut function
Helps for better wound healing
helps to counteract oxidative stress & maintain gut function & integrity
Helps to reduce the frequency of diarrhea.
Packaging :
Kabimmune Pus is available as 15 gm single dose powder sachet
Storage :
Store dry at room temperature. Once prepared refrigerate and use within 24 hrs. Consume immediately after reconstitution.
Usage :
Usage / Administration: Sip feeding & Tube feeding
Take 150 ml of water in glass &add content of Kabimmune Pus sachet. Stir well until the powder dissolves
Dose :
As recommended by Doctor and patient's need 1-3 sachet per day can be given.
For basal Requirement = 1sachet / day.
For moderate stress condition = 2 sachet / day.
For severe stress condition = 3 sachet / day.
Kabimmune Plus is not suitable where Enteral Nutrition is not permitted. Not suitable for Patients with sever liver or kidney insufficiency and patients with inborn errors of metabolism of nutrients contained in kabimmuen Plus
Contact Us
3b, Khusi Plaza, B/h. Kadava Patidar Vadi, Nr. Shree Santoshi Masala, Usmanpura Char Rasta, Ashram Road, Usmanpura Gam,, Ahmedabad, Gujarat, 380014, India
Phone :+918037745088